Move With HiveBoxx – Help Save The Bees
HiveBoxx is a family owned and operated company with more than a decade of experience in the real estate industry.  During that time they noticed the impact moving homes can have on people's lives and on the environment.  When they discovered reusable moving boxes made from recycled materials, they were truly excited about offering this new earth-friendly opportunity to existing clients.  Today, they are shaping and evolving the moving business, making life easier for their customers and doing their part to save the bees.
Helping Save The Honeybees
Honeybees have been dying in record numbers since 2006.  One of the most important links in the food chain is in peril and we're doing something about it.
Every time you shop with HiveBoxx, you're supporting our efforts to help save the honeybee. They set aside 1% of sales to support local bee farmers and non-profit bee saving projects.
Cardboard vs. Recycled Boxes
Cardboard
If you have ever moved… and still have not repressed the memories.  Sorry.  But you do remember what a pain it was to get the cardboard boxes right?  After many runs to the liquor store (mostly for boxes!), Lowes,Home Depot, U-Haul and begging for other peoples old moving boxes doubtless you were already tied.  And then you have to tape them up, scribble off the writing and tape them up.  And if it rains the day you move?  Well, have fun with that.  Then you have to figure out how to get rid of all the old cardboard.
HiveBoxx
You call and rent their boxes and supplies.  They deliver cleaned plastic moving boxes that are tough, water resistant and close securely… to your doorstep.  No packing tape or assembly is needed.  Once you've moved they come and collect the boxes.  Easy peasy.
"100% recommended!…super reasonable pricing, flexible with my dates and AMAZING to not have a million boxes to dispose of after the move!!" – Facebook Review

"This is just the best service for helping make the not usually so fun moving…" – Facebook Review

"I will never move with cardboard boxes again! So glad my husband's colleague recommended HiveBoxx. Such great service and such a great way to pack." – Facebook Review

"Awesome company! Made moving so easy! They also encourage saving the bees which just makes my Happy!" – Facebook Review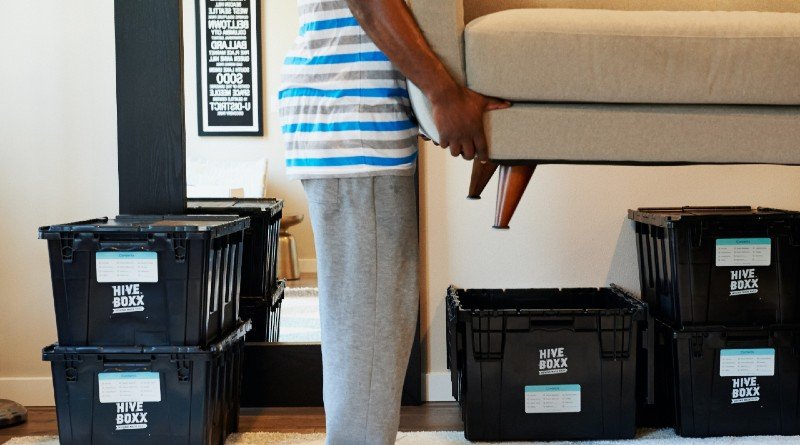 Because of HiveBoxx's dedication to providing sustainable business solutions, using their products and services can help you earn up to four bonus points toward LEED certification.
The U.S. Green Building Council (USGBC) is a 501(c)(3) nonprofit organization committed to a prosperous and sustainable future for our nation through cost-efficient and energy-saving green buildings.
COVID-19 UPDATE
HiveBoxx  will deliver steam cleaned reusable moving boxes that have been quarantined for a minimum of 7-days between use so they are Coronavirus free (COVID-19) straight to your door and collect them once you're done.
HiveBoxx is currently is currently serving the Seattle, WA area.  They are actively looking to franchise.  If you're ready to move, see if HiveBoxx is available your area yet.