Cochran's Lumber Sells American Wood Floors
Let's cut to the chase scene here – Cochran's Lumber sells 100% American wood.  And really, really nice stuff at that.  Why does that matter?
Sure.  You can buy hardwood flooring at a big orange or blue box store.  Nowadays you can buy flooring pretty much anywhere.  But where did it come from?  Go ahead and ask.  I mean you would ask the guy selling shrimp and scallops out of the back of his truck, in Ohio, where he got his product right?  That may end up being a complicated, yet interesting, conversation.  So what about asking where your wood flooring comes from.  Simple, right?  Not so fast.
Floor Covering News ran an article entitled "Wood: Not so made in America".  The results of "mystery shopping" for hardwood flooring returned surprising, or maybe not so surprising, results.  Many products the salespersons claimed were made in America were, in fact, not.
"…when it comes to flooring, we have so much imported product that's coming over and some of it is being marketed with misleading information with American or U.S. sounding names. " – Floor Covering News Article: Wood: Not so made in America
Isn't the chain of custody for building products important for the consumer to know and understand?  You do remember the Lumber Liquidators fiasco right?  So, where do you find high-quality, beautiful, 100% American wood flooring?  Read on….
History of Cochran's Lumber
Cochran's Lumber was founded in 1978 by brothers Mark and Larry Cochran.  Drawing their inspiration from the beautiful landscape that surrounded their family farm, the Cochran brothers mastered the art of fine craftsmanship and personalized service in their Bluemont, VA woodworking shop.  Now in the second generation, Mark and Larry are still heavily involved in the day to day operations at their 60,000 square feet facility in historic Berryville, VA.  Today, Cochran's Lumber proudly employees over 45 highly skilled, local tradesman who take pride in creating American made floors that will last a lifetime.
Cochran's Lumber enjoys longevity with their clients as well.  Many of their clients, trade partners and employees have been with them over 20 years.  The dedication to service, quality, and responsibility is at the core of their business values.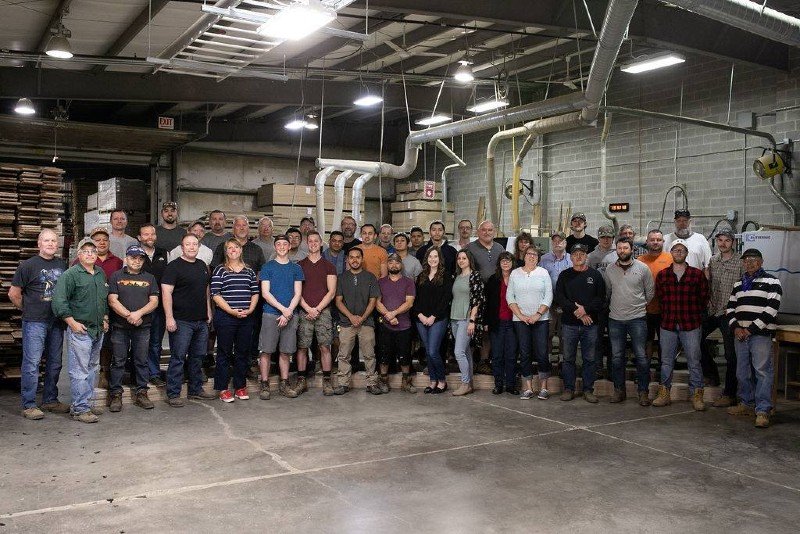 Sustainability
As a family business with a farming heritage, Cochran's values good stewardship, honesty and sustainability. Whether they are using locally sourced lumber or antique wood, they are genuinely committed to making meaningful use of these resources by crafting beautiful floors that will continue to stand the test of time.
"So far, the oldest wood we've reclaimed came from an 250-year old historical home in Alexandria, VA. We can create that very same character using newly milled flooring. " – Cochran's Lumber
American woods. American values.
All wood used in to make Cochran's floors is 100% American, responsibly harvested lumber that is milled right there in Virginia and free from dangerous contaminants (such as formaldehyde) that have been found in foreign-manufactured lumber and flooring.  Cochran's also uses American antique wood reclaimed from old barns and buildings.
In fact, for just a few dollars per square foot more than "made in China," factory-finished wood, Cochran's new and reclaimed hand-finished flooring give new homes a century of character. The quality of these floors adds significant value to the project, without adding significantly to the cost.
Every Cochran's floor is crafted in Berryville, Virginia from fine American woods, including white oak, walnut, cherry, maple, ash, birch, heart pine and Douglas fir.
Beautifully Finished and Ready to Install
Cochran's Lumber doesn't outsource parts of their process or use a completely automated process to speed things up.  From milling through finishing and delivery, every aspect of your order is managed right there at Cochran's Berryville, Virginia shop.  Their  60,000 sf facility spans five acres, with 40 local craftsmen, logistics and service people carefully working with state-of-the-art systems—and four decades of experience—to make every floor a masterpiece, and to make every order a pleasure for the customer.
Higher quality, easier to install: Because their craftsmen finish their flooring before it leaves the shop, they control the quality of every floor board.  That's why Cochran's flooring installs faster and without the sanding dust, finishing fumes and inconsistencies of flooring that must be finished onsite.
"With antique wood getting scarcer and more expensive, our expertise at milling and finishing new woods can continue to give architects and homeowners affordable access to flooring with genuine character. " – Cochran's Lumber
What does Cochran's offer?
Solid or engineered flooring available in reclaimed or newly milled veneers

100% American woods

"Green" low VOC finishes

Beautifully finished flooring free of the quality inconsistencies that can arise with onsite finishing

Can be installed easily by builders (without sanding dust or fumes)

Cochran's milling-through-delivery control offers greater flexibility in meeting your timeline

The bespoke look of antiqued floors available at surprisingly reasonable prices