Southend Reclaimed – Hand Distressed White Oak
Cabin fever got ya wanting to go see open houses, especially really cool idea houses?  Well, here's a solution…
The Charlotte chapter of the Interior Design Society (IDS Charlotte) recently completed their first designer show homes.  This is trio of  custom homes located in The Preserve at Narrow Passage in Davidson, just north of Charlotte, NC.  Charities were at the top of the priority list when designing, building and showing off these unique homes.   All proceeds from tours and other special events benefiting Motor Racing Outreach, The Hendrick Family Foundation, The Dale Jr. Foundation and Operation Finally Home.
Here's a sneak peak: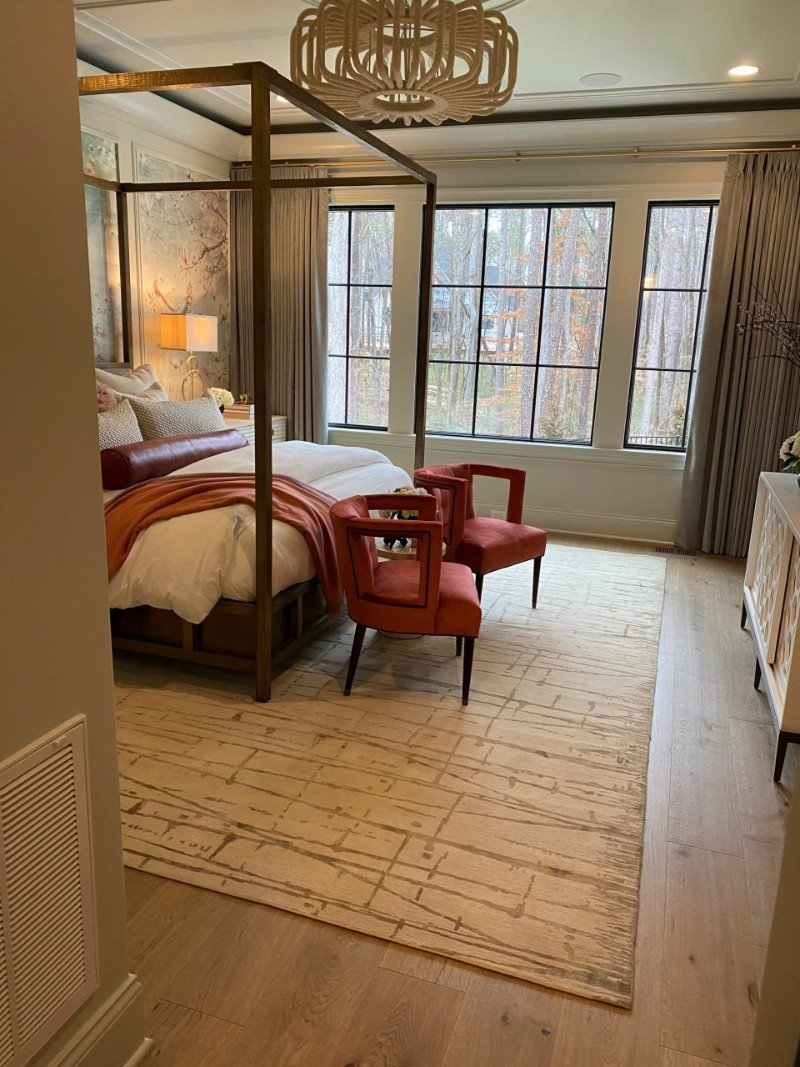 These are not your run of the mill, wanna-be idea homes.  The top names in Charlotte design came together to create one-of-a-kind living spaces.  Our friends at Southend Reclaimed were honored with the opportunity to provide flooring for one of the homes.  They provided a one-of-a-kind, custom European White Oak for this project.  This flooring is truly exquisite.  After all, "average" flooring simply wouldn't do in a space like this!  The beautiful pre-finished coloring, hand distressed wire brushing and light saw marks make this flooring as unique as it is awe-inspiring.
Well… we all had grand plans before the global pandemic swung into full force huh?  These IDS show homes are in it with the rest of us.  Prior to the COVID-19 pandemic, the houses were planned to be open to visitors for three weeks, and special ticketed events including chef demonstrations, floral entertaining, outdoor living and kitchen trend talks, a vendor day and celebrity book signings were also planned to raise money for the charities.  Tell us that would not have been a really fantastic  and fun event!  Unfortunately, due to COVID-19, the homes were only open to the public for two days after over two years of planning.
Thankfully, the awesome people at IDS Charlotte were able to put together a video tour showcasing all three of the homes and made it available on Pay-Per-View!  So even though the original plans for showing off the homes weren't able to happen, money has still been raised for four wonderful charities.  To see the beautiful homes and support the mission of IDS Charlotte, check out the virtual tour in the link below.
Tour the Interior Design Society Showhouses on Pay-Per-View Here!
Hand Distressed Wide Plank European White Oak Flooring
Species: European White Oak
Prefinished Engineered Wood Flooring
Light Rustic Grade (some scattered knots)
Thickness: 3/4″
Width: 8 5/8″
Lengths: 2-10′
6mm Wear Layer!
Unique and Beautiful Texture: Wire Brushed and Subtle Saw Marks
Beautiful, Unique Blond Color
Color and Textures are customizable
The Strength Of The Past
At Southend Reclaimed, their mission is to rediscover antique wood and brick hidden in century-old structures and reclaim them for a new generation.  Since 2001, they have become a national leader in procuring reclaimed products for use in residential and commercial construction.  Their reverence for these precious materials is second only to the respect they have for their customers.  Integrity is in every action they take.  They believe in what they do, and they believe no one can do it better.
You can feel that commitment in Paul Atkinson, President & CEO in this great video: Southend Reclaimed – A Passion For Reclaimed Wood & Brick. Take a look and then check out more details and pictures on Racehorse Reclaimed Oak and their other awesome products at Southend Reclaimed.
Check out their equestrian inspired and sourced Racehorse Reclaimed Oak.