Choosing a shutter style. may at first seem easy.  There are numerous options: panel or louver, board-and-batten or Bermuda, and even some combinations of these styles.  There are countless shutter profiles available within each style—and surely the perfect one that can give your home a look that says, quite simply, "you."
Timberlane Shutters, a high quality manufacturer of custom shutters, has provided this great primer to get you started.
Panel Shutters
Exterior panel shutters provide a classic look while offering a wide variety of customization options. You can further modify your shutter profile by adjusting the number and configuration of panel sections.
Louver Shutters
Whether you desire fixed or operable louver shutters, you're sure to find something you love in our selection of louver profiles. Plus, you can also customize the overall configuration, and even add an optional tilt rod.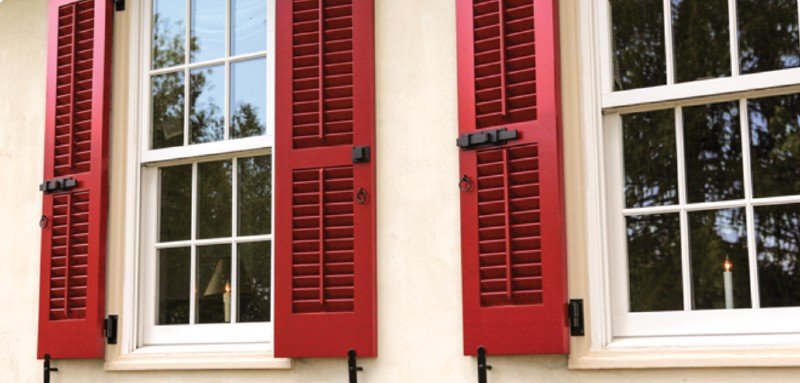 Bermuda Shutters
Bermuda shutters, sometimes referred to as Bahama shutters, immediately conjure up images of beaches and relaxation. Many customers have also used them as attractive, functional solutions for patios and sunrooms in a variety of regions.
Board & Batten Shutters
Board & batten shutters are a popular choice for certain architectural styles, such as farmhouse and cottage-inspired looks. You can create your own design by adjusting the board width, choosing a different profile, and adjusting the batten placement.
Mission Shutters
As an iconic look for many homes with Arts & Crafts design, our Mission Style shutters are available in four profiles. Each profile has a personality completely unique from the others and can be further customized with a beautiful stain finish or paint.
Combination Shutters
Timberlane's Combination Shutters are true head-turners as they offer a mix of panel and louver styles within the same shutter. The customization options are practically unlimited as you explore profiles, configurations, radius tops, cutouts and more.